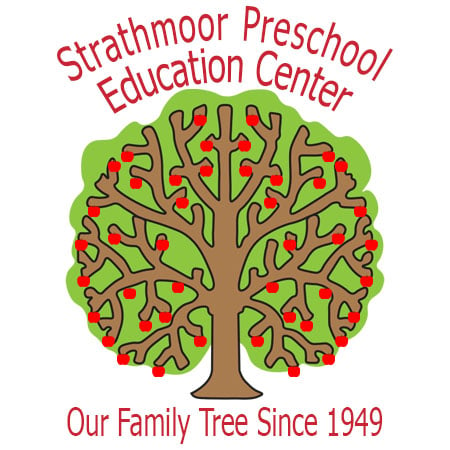 For the past 70 years, Strathmoor Preschool Education Center has ministered to the education of the children in the Louisville area. We are a Christian preschool that welcomes children and families regardless of race, color, gender, national origin, creed, or religious affiliation. We are a school year facility with classes beginning in mid-August through May. We have a similar schedule to JCPS with similar school breaks.
We are here to provide

safe and nurturing care
developmentally appropriate education
learning through hands-on, multisensory approach
monthly chapel time for spiritual growth
affirmative guidance encouraging the growth of each child
Classes are held 9:00 a.m. until 12:00 p.m.
Two-year-old children who turn two by August 1st may attend either 3 mornings per week (Tuesday, Wednesday, Thursday) or five mornings per week (Monday -Friday). The children experience age appropriate, center-based activities that follow the school wide curriculum themes.
Three-year-old children who turn three by August 1 may attend either 3 mornings per week (Tuesday, Wednesday, Thursday) or five mornings per week (Monday-Friday). Please note that children in the Preschool Class (3's) MUST be potty-trained prior to the first day of classes.

Pre-kindergarten consists of children who turn 4 by August 1 or five year old children. It is five mornings per week to prepare the students for Kindergarten the following year. The Pre-Kindergarten Class (4's) is for children is for children who have previous daycare or preschool experience and for those who are attending school for the first time.
Preschool Education Class dismissal is at noon. We offer a reduced annual tuition rate for those who want to pay for the entire year prior to the first day of class in August, or you may make 10 monthly payments on the first of each month beginning in August. Strathmoor Presbyterian Church offers a limited number of partial scholarships. Please call for further financial information.
Extended Care is offered before and after preschool. It is enrolled for the entire school year and varies depending on current family needs each year. The student must be enrolled in preschool classes on the days extended care is needed.
We welcome you to visit our classes. Please call or email to schedule a visit during the school year or if you have further questions.
Strathmoor Preschool
2201 Hawthorne Avenue
Louisville, KY 40205
Phone (502) 458-6585 Fax (502) 451-5185
E-mail: strathmoorpreschool@gmail.com